The Home Center – Complete Roofing System – With Material AND Labor Warranty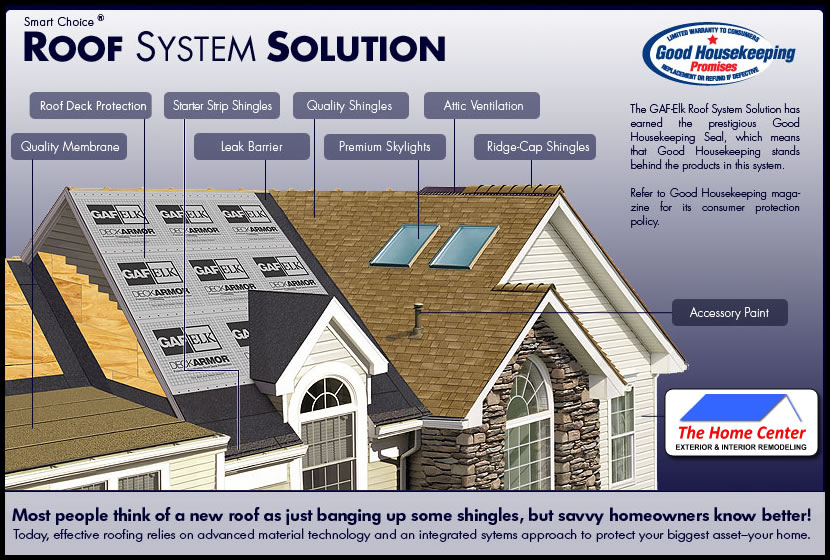 Here are the components that make up a superior roofing system? These quality GAF-Elk products have been designed to work together for superior, long-term protection, and have been proven on literally millions of homes nationwide.
They even carry the prestigious Good Housekeeping Seal – your assurance of exceptional quality and performance!
Quality Shingles
Looking for shingle options? Click here to browse our complete shingle line and color options
Leak Barriers
Create a 100% watertight seal that keeps water out of the most vulnerable areas of your roof
Roof Deck Protection
Prevents wind driven rain from infiltrating under your shingles and causing damge to your home
Low-Slope Membrane Roofing
Protect porches, carports, and other low slope roofing areas with a quality membrane roofing system
Fiber-Cement Siding
Fiber-cement siding is tough and durable… even for demanding commercial applications
Ridge Cap Shingles
The perfect finishing touch for your new roof should be a distinctive ridge cap shingle
Attic Ventilation
Proper attic ventilation is crucial for a long-lasting roofing system! Check out the latest ventilation products by GAF-ELK
Starter Strip Shingles
Reduce installation time and help prevent shingle blow-off with a factory-manufactured starter strip shingle