Sunrooms, Conservatories, Patio Rooms and More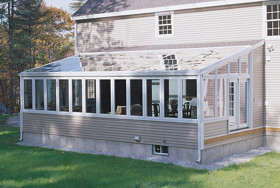 Straight Roof Studio Sunrooms
Simplicity and subtlety make the straight lines of our class sunroom a seamless addition to your home.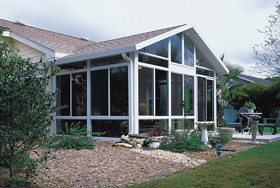 Cathedral Roof Sunrooms
Dramatic use of light and space drive our cathedral designs, adding a new dimension to your home and lifestyle.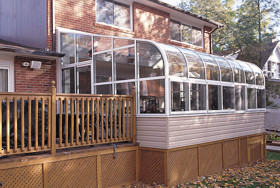 Curved Roof Studio Sunrooms
Graceful lines and curving symmetry complement your home's existing roof line for a polished, finished look.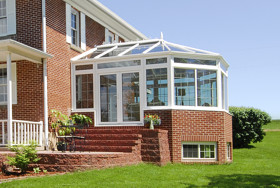 Conservatories
Classical design and elegant construction combine for the ultimate in all-season luxury living with our conservatory designs.
Material Choices in Sunrooms & Conservatories
Not only do our sunrooms offer you the largest and most complete product range in every architectural style.
We also offer you the largest choice in structural materials: sleek aluminum, efficient vinyl, and warm and inviting natural wood.
The Home Center gives you this much choice to fit your personal style and build the room of your dreams.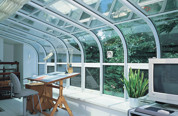 Aluminum
Aluminum is the structural material of choice for the majority of sunrooms being
built today.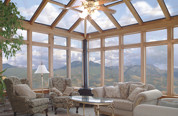 Wood Interior
Nothing can beat the warmth and grace of a warm natural wood interior in your sunroom.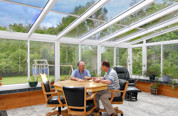 Vinyl Interior
Aluminum structure clad with smooth and durable vinyl for energy efficiency and very
low maintenance.
To find out more?about how you can enjoy year-round outdoor living with our beautiful screen rooms, sunrooms, patio rooms and conservatories,
contact us TODAY to set up a FREE in-home design consultation.